Friday I was going to go to Ruff Club, but I couldn't find anyone to go with. My outfit was super trashy. I've been working on this earring for the past couple of weeks, I can't say that I just fashioned it one day because it's been an accumulation of inspirations and adaptations. I'm really inspired by the idea of armor as jewelry and this woman came into Seven wearing an earring that was long strings of chain (she was also wearing thigh high Rick Owens boots). I immediately went home and fashioned an earring that was a foot long of chains. I added hair because I had some leftover weave from a photo shoot (randomly, and luckily) and I wore it this way for a week or so. Only recently did I realize that by wrapping it around my ear I could eliminate the pain of getting it caught on things and not realizing it (more painful in the fact that I imagine it ripping through my earlobe) as well as the pain of gravity. I really like it wrapped around my ear regardless because it reminds me of a peircing a punk kid would do to be scene and tortured and it reminds me of armor or some sort of decoration that a warrior girl would wear living on the streets: a sort of thrown together embellishment of trash found. I especially look like one with my new undercut (don't worry I still have the bowl). I always only wear one earring because asymmetry adds a level of mystery and interest in an outfit. I'm also wearing
KO
nail polish. Christian Joy's friend designs and makes the colors and its amazing. I bought the black today, and it dries absolutely matte- no shiny nonesense. So dramatic and agressive and fabulous. Christian says that the Liberty blue looks amazing with a red lip.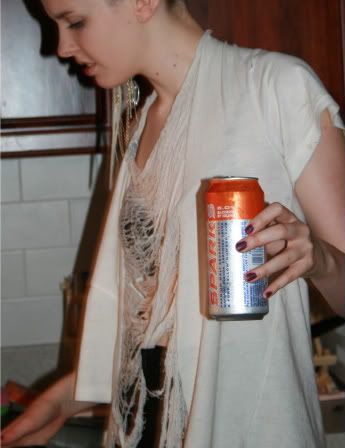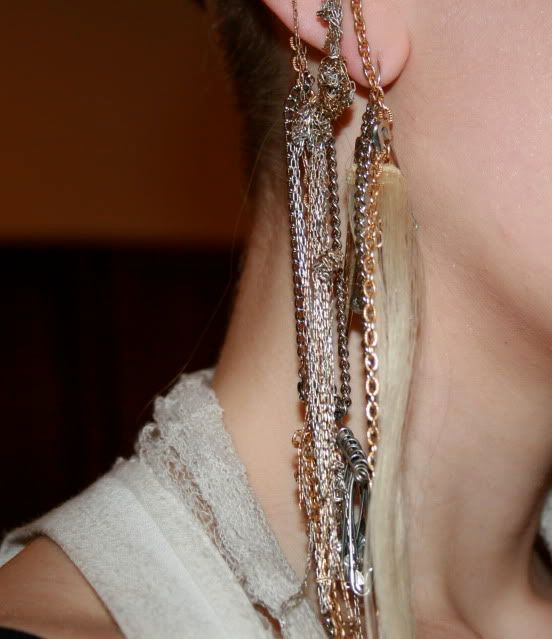 I also really want one of these "goth" rings It's for the warrior girl of the future that is trying to survive. AKA Pris from Blade Runner. Dan's Jeweler's rings.
- I reallllly want this one.
Today I went scouting for Style Like U uptown at Barney's and Bergdorf's. (Will, you would have died with the shoe sale, overflowing Balenciagas) and I wore Gareth head-to-toe.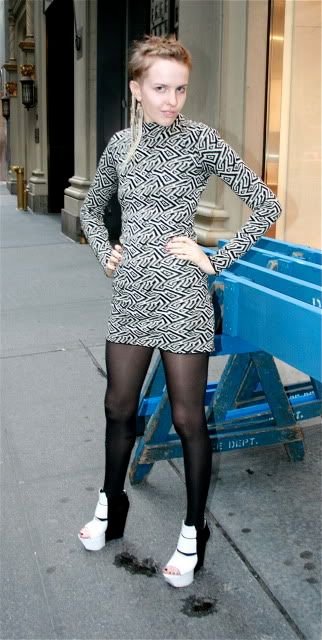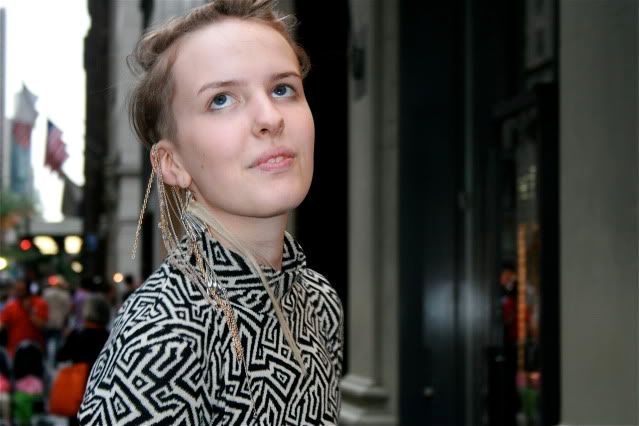 Searching for cash at Bendel's for the KO nail polish.
Gareth Pugh sweater dress and shoes. AA tights.