SO, I went a little crazy before Christmas and I couldn't help myself at SEVEN's sale. I bought a Gareth Pugh dress. Its a rather simple silouhette, and rather simple concept- skin tight turtle neck sweater dress with an invisible zipper down the back and on the wrists, but it has a much deeper styling message. The complex black and white Aztec print parells back to Gareth's signature print as well as his overall theme of the constant battle between light and dark. And it especially reminds me of Gareth Pugh's SS09 collection, which is, in my opinion, his best collection to date. Styling this dress is quite fun as it takes control of any outfit. Excuse the boring backdrop; I was visiting my mother for Christmas.
I just put my two tone tight ,black Jeffrey Campbell platforms, and Bernard Wilhelm for Linda Farrow sunnies for a simple contrast.
I paired it with an old Urban Outfitters jacket, a blouse that I had to make for a final (in a really interesting pixelating print), my two tone tights ( the dress just looks soooo good with those tights), and my old cowboy boots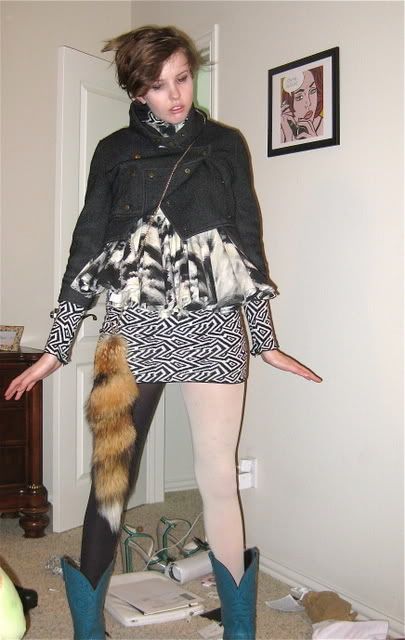 I paired it with a vintage darted puffer that my friend gave me, a Grai cardigan, more two tone tights, and Prada platforms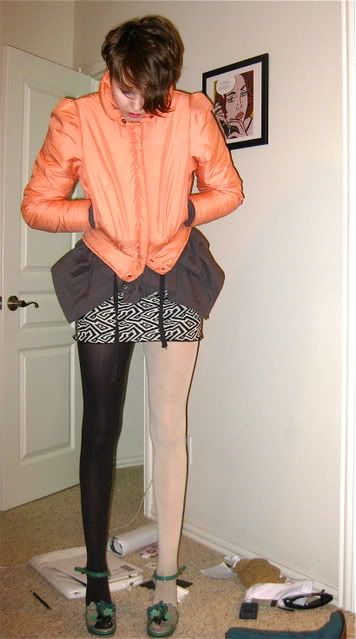 And this outfit consists of some cheesy fabric worn as an oversized scarf/ sash, an animal print skirt that I made, (do I even need to mention the tights?), and Irregular Choice platforms.