1. I hate merely repeating information that I see on other fashion websites, in fact it's a bit of a pet peeve of mine. When I go to read fashion blogs, and they are just pictures of things that I looked at on fashion news sites, or read in a magazine. But, I'm not going to comment on the news because hopefully you have read about it, or if you haven't you should read about Noki on Dazed.
The point is, the silhoutte he created for this season is fresh. To me, his aesthetic is always the same (sustainable functionality, etc.) but this time he took the clothes to a further level of visually pleasing, without sacrificing his political message of sustainability, functionality, and consumerism. The silhouette of long slender mermaid skirts and voluminous heavy top half perhaps seperately have been explored for a long time. For me crotch skimming, tight, revealing somewhat tasteful stripper/trashy wear has been relevant really all year long, and this silhoutte implies a polished, prude sensibility but with the same taste of trash with the apathetic, inhuman, distorted, cartoon-like shapes. The fact that the contortion is found through Noki's overall shape as opposed to cut-outs, and as opposed to structure is an interesting commentary. And the warrior masks are probably why I'm posting this.
2. I dressed up as Hamlet for Halloween, and I never posted the pictures because I was lazy and busy (same excuses). I sort of want to dress like this everyday. Undead make-up included. It's layered and lucious! I kind of miss my nose ring too.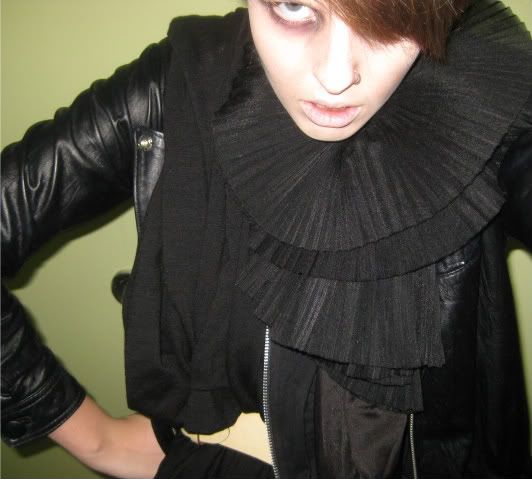 Metropark leather jacket from too long ago, Complex Geometries dress, thrifted slip draped as ruff ( through skill), zippy Oak jumper (draped), and Zara drop crotch (totally ruined them today in silk screen class)
3. I did a photo shoot recently, my blonde weave is kinda cool. I kept it, and I am going to make some intense Margiela inspired jewelry in coming weeks.