I want a pair of really nice flats. I'm tired of falling on my face. The only pair of flats that I really like are these vintage Stuart Weitzmans that are perforated, studded oxfords. Seeing as they are white leather and I payed three dollars for them, they are falling a part and the leather laces are basically disintegrating. I just wish that I had a pair of shoes that I could run to when my feet are contorted and throbbing with platform pain, while not sacrificing style. And while we are having a complaint party, I need a pair of flats to wear to Chelsea during art openings, as I wore my Prada achilles heels last Thursday and due to the excessive gallery hopping, my feet are still recovering and are somewhat numb in places.
Will and I were shopping online Friday and we both liked these Junya Watanabes. I like the fact that the lace extends to the toe giving it a bit of quirk aside from it's rather "typical" ballet lace up flat style. And I like that my foot is covered and skin isn't completely showing. I have a pair of Miu Miu flats that I never wear because of the open quality. I like to have hooves for feet. One of my pet peeves I guess.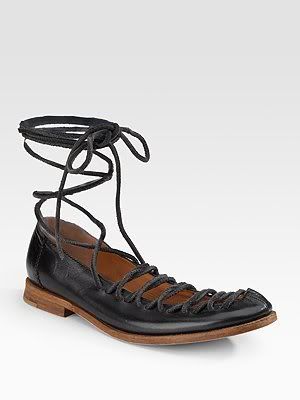 I also semi like these Margielas. But they might be a bit too simple for me. The stripe winding echoes the one leg pant though, which I am about to come undone about loving so much.
Either way, I'm not spending $700 on a pair of flats. When they go on sale at Saks I'll snatch them up.